"My milkshake brings all the boys to the yard…" But seriously, this one does. Key lime pie milkshake is quickly taking a spot as our ultimate, favorite milkshake. And that's a toughy because JCW's makes a purty darn delicious shake. Back in the day it used to be Burgerville. Mmmmm, Burgerville… Ok, back on topic. The thing is I was spoiled with Tillamook ice cream growing up and when I got married I quickly sold the hubby on my favorite, Marionberry Pie Ice Cream. Naturally when Tillamook approached me about making a delicious treat for National Ice Cream Month and they would send me some product coupons I was all over that shizzle. HECK. YES.
Key Lime Party!
But then a few friends of mine and I decided to get all crazy and make a few Key Lime desserts. Check out our Key Lime party by visiting the other key lime treats and scroll down to read more about this creamy, dreamy deliciousness.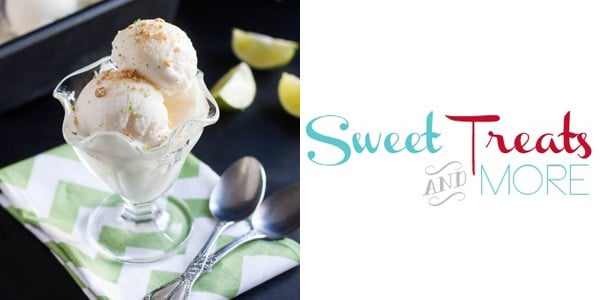 Key Lime Pie Frozen Yogurt from Sweet Treats and More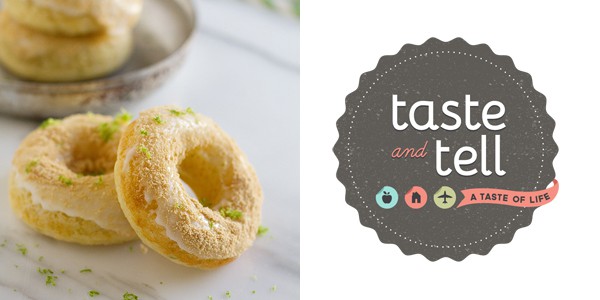 Baked Key Lime Pie Donuts from Taste and Tell
I figure if Tillamook can make a totally awesome ice cream with little nuggets of pie crust deliciousness and sweet swirls of marionberries (which happens to be my favorite pie) then I for sure can turn my husband's favorite pie into a milkshake!! Plus, it's super creamy, dreamy and delicious so even if key lime isn't your favorite pie this will probably end up being your favorite milkshake.
So, let's just talk about how easy this is. First, put some Tillamook Vanilla Bean ice cream in your blender. We use our Blendtec. Then chop up 1-2 pieces of key lime pie and add to the blender. Add a few sprinkles of lime zest, and turn on low. Seriously, low is all you need. And you could add a little milk if necessary, but I like a really thick milkshake so I generally skip the milk. Honestly, I think a good milkshake is actually more about the ice cream you use than anything else. I mean, you can have awesome ingredients and then use no name, cheap, plain, bland vanilla ice cream and suddenly the whole shake is kinda lame. Hence the reason I'm a Tillamook girl. It only makes everything taste better.
I kind of miss Tillamook. I mean like, the real Tillamook, the factory. As a kid our family would go tour the factory and eat lots of delicious foods and ice cream. I only wish I had been old enough to actually pay more attention to the process and Tillamook story. Someday we are totally going to take our kids back and pass on the love of Tillamook to them.
What Is Key Lime Pie?
Key lime pie is a custard pie that is made from Key limes.
Key limes, also known as Mexican or West Indian limes, are more aromatic, with tarter and more floral juice than regular limes.
They are picked green, but will become yellow when ripe.
Can You Make a Milkshake With Frozen Yogurt?
You can make a milkshake using frozen yogurt instead of ice cream.
Using frozen yogurt in place of ice cream cuts back on some calories, plus it has about half of the fat.
Milkshakes made with frozen yogurt will not be as creamy as a normal milkshake, because of the lower fat content.
More Ice Cream Recipes You're Sure to Love:
Key Lime Pie Milkshake
Key Lime Pie Milkshake
Ingredients
2 Cups Tillamook Vanilla Bean Ice Cream
1-2 Pieces of Key Lime Pie, chopped
1/2 Teaspoon Lime Zest
*Milk if needed
Topping
2 Graham Crackers
1 Tablespoon Butter, melted
1 1/2 Cup Heavy Cream
1/3 Cup Powdered Sugar
Instructions
Grind the graham crackers into crumbs, and add the butter until just moistened like wet sand.

In a large bowl, using a hand mixer, mix the heavy cream until stiff peaks begin to form.

Add the powdered sugar and mix until sweetened and stiff peaks return.

Place all of the ingredients into a blender and turn onto low, mixing until just combined.

Pour into a large glass and top with whipped cream and graham cracker crumbs.
Notes
If the mixture is too thick to blend, add a drizzle of milk until smooth.
Nutrition
Calories: 952kcal
Recommended Products