Growing up in New England, Memorial Day always signaled the opening of the seasonal homemade ice cream shops. These were the kind of shops, where the cows would be roaming in the back and the same people worked every summer. After a long winter, there was nothing better than a freshly made double scoop of your favorite ice cream. I always went to the same place and always ordered my favorite flavor of ice cream – chocolate chip cookie dough. To this day, every time I go back to visit, I still head to the same little ice cream stand and order the same flavor. It looks and tastes the same as it did over twenty years ago.
With the forecast for the next 10 days around 90 degrees here in Florida, I'm preparing myself for plenty of ice cream, popsicles and milkshakes. There is no better way to cool off than with a refreshing and sweet summertime treat. And since strawberries are plentiful this time of the year, I love making homemade Strawberry Cheesecake Ice Cream.
Rich, creamy and always fresh, homemade ice cream is better than anything you will ever buy at the grocery store. A few simple ingredients combine to create a flavor packed summertime treat. You can't go wrong with the strawberry and cheesecake combination. Fresh berries are folded into a smooth and creamy cheesecake ice cream with graham cracker crumbs sprinkled over the top.
Ice cream is one of the easiest treats you can make. If you have never made it before, I strongly encourage you to make it this summer. Once you make it, you will never go back to the store-bought varieties. The flavor combinations are endless and it is a treat that the entire family will love.
Are Ice Cream and Frozen Custard the Same?
Both ice cream and Frozen Custard are made with milk, cream and sugar.
The difference between ice cream and frozen custard is that frozen custard has egg yolks which give it a creamier texture.
What's the Difference Between Ice Cream and Gelato?
Gelato is made of a similar custard base as ice cream, but has a higher proportion of milk and a lower proportion of cream and eggs (or no eggs at all).
Are Strawberries Good For You?
Strawberries are packed with vitamins, fiber, and antioxidants.
They are also high in potassium, one of the most important minerals in the body.
Potassium helps regulate fluid balance, muscle contractions and nerve signals.
Potassium may help reduce blood pressure and protect against stroke and prevent osteoporosis and kidney stones.
Strawberry Cheesecake Ice Cream
Strawberry Cheesecake Ice Cream
Ingredients
1 package cream cheese, 8 ounce, at room temperature
5 egg yolks
3/4 cup sugar, + 1 tablespoon
1 1/2 cups heavy cream
1 1/2 cups milk
1 teaspoon vanilla extract
1 1/2 cups strawberries, diced
graham cracker crumbs, for topping
Instructions
Place the cream cheese in a medium heatproof bowl; set aside.

In another medium heatproof bowl, whisk together egg yolks and 6 tablespoons sugar; set aside.

In a medium saucepan over medium-high heat, combine the cream, milk, and 6 tablespoons sugar.

Stir until the mixture approaches a bare simmer, and reduce heat to medium.

Scoop 1/2 cup of the hot cream mixture and slowly pour the hot mixture into the egg yolks, whisking the eggs constantly.

Repeat, adding another 1/2 cup of hot cream to the bowl with the egg yolks.

Using a heatproof spatula, stir the cream in the saucepan as you slowly pour the egg-and-cream mixture from the bowl into the pan.

Cook the mixture over medium heat, stirring constantly and scraping the bottom as you stir, until the mixture thickens, coats the back of the spatula and reaches a temperature of 170 to 175 degrees F.

Pour the custard through a fine-mesh strainer into the bowl with the cream cheese.

Whisk until smooth, then set the bowl into an ice water bath, stirring the base occasionally until it is cool.

Remove from the ice water bath, cover with plastic wrap and refrigerate mixture overnight.

After the mixture has chilled, stir together strawberries and remaining tablespoon of sugar in a medium bowl.

Let the berries stand at room temperature for 30 minutes.

Add vanilla to ice cream mixture; stir to combine.

Freeze ice cream mixture in your ice cream machine according to the manufacturers instructions.

Fold strawberries into ice cream and freeze for at least 4 hours.

Top with graham cracker crumbs before serving, as desired.
Nutrition
Calories: 585kcal
Recommended Products
Looking for more Berry-licious summer dessert recipes?
Triple Berry Lemon Cookie Cups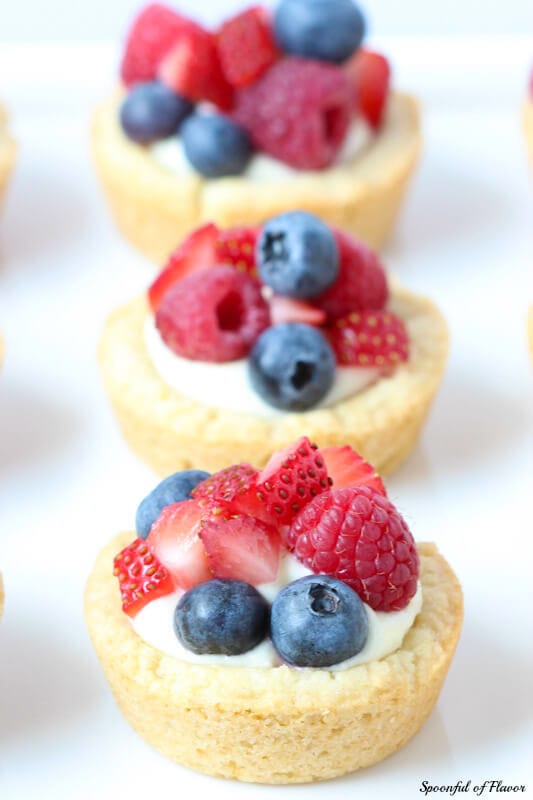 Connect with Ashley:
Blog | Facebook | Twitter | Pinterest | Google + | Instagram