A group of us decided that with Halloween on the way and spooky parties popping up everywhere that it would be fun to team up with Pillsbury to create an awesome Monster Party! These cookie monsters were so much fun to make and they allowed the kids to be involved. You know I love getting kids involved with the cooking, but sometimes it's so tempting to just do it yourself. Holidays always are such a great reminder to let my hair down and let the kids get creative.
And look, it totally worked! Didn't these monster cookies turn out so cute?! And they were crazy easy to make. In fact, technically I really didn't make anything. I've learned that sometimes it's not about healthy and homemade. In fact, in order to keep my sanity (because sweating bullets in the kitchen to make a meal and keep tracking of little hands isn't always fun) I specifically choose to do semi homemade treats or snacks every now and again just so the kids can try their hands at making their own recipes. The other bloggers seem to be on the same page as me too because this monster party is perfect for families and kids!
These little pretties were so excited to make monsters. We bought Pillsbury cookie doughs and smashed them into 8×8″ pans (about 1 1/2 rolls of cookie per pan) and then let them bake for 30 minutes. I actually opened the door about 10 minutes prior to them being done and lightly pressed down the edges so they didn't rise too high around the sides. I still sliced off any edges that made the cookies uneven. Then we used different cookie cutters (the spiky haired one is actually a pineapple cookie cutter) to create different shapes and sizes. Oh, and I should add that we did let the cookies cool for a few hours just to be safe and not have any gooey shapes. Then we went to town with the decorating.
Decorating is so much more fun if you just buy a few things to help everyone get creative. We bought food coloring for the frosting, gel decorating tubes, and different sizes and colors of pearls (like sixlets) for eyes and polka dots. This is such a great activity for kids to do to drop off goodies for neighbors, treats for a party, or even the activity for a kids Halloween party.
Monster Blood and Guts from Lauren's Latest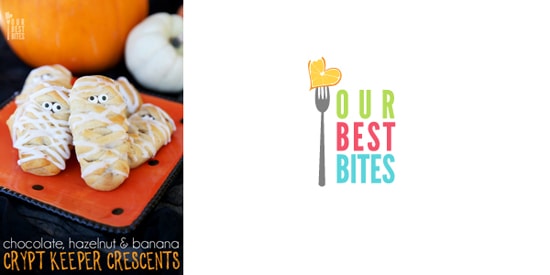 Crypt Keeper Crescents
from Our Best Bites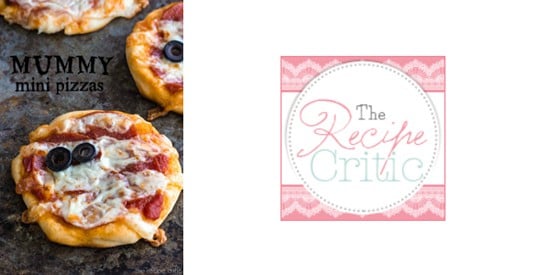 Mini Mummy Pizzas from The Recipe Critic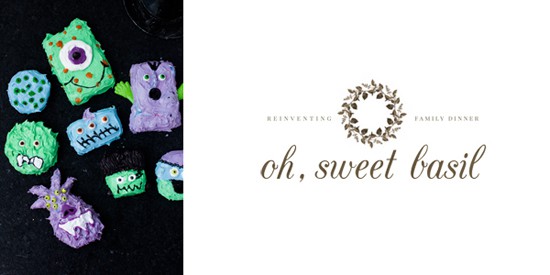 Cookie Monsters from Sweet Basil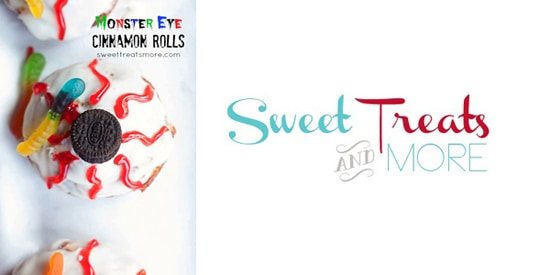 Monster Eye Cinnamon Rolls from Sweet Treats and More
Monster Brains from Taste and Tell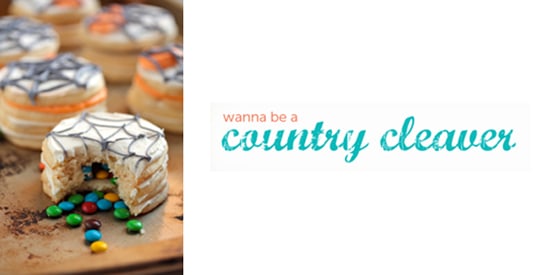 Sugar Cookie Surprise Stacks from Wanna Be a Country Cleaver
Cookie Monsters
Cookie Monsters
Description
These cookie monsters were so much fun to make and they allowed the kids to be involved.
Ingredients
2 packages Sugar or Chocolate Chip Cookie Dough
White Frosting
1 Box Food Coloring
Gel Decorating Tubes
Sprinkles and Sixlets in different colors
Instructions
Press 1 1/2 of the cookie dough packages into an 8x8" pan and bake at 350 for 30 minutes.

Allow to cool completely and trim off any edge pieces that are sticking up high.

Use different cookie cutters to create different shapes for the monsters.

Separate your frosting into 3-4 bowls and use the food coloring to create different colors.

Frost and decorate the cookies to look like different monsters.
Notes
Want to make even more creative looking monsters? Don't worry about what your cookie cutter normally is, use it to create different shapes and turn them into cool features on the monster. A pineapple makes great hair or multiple legs, a snowman makes a curvy monster, or a gingerbread man makes a great vampire or mummy! Store in a covered container for 2-3 days
Nutrition
Calories: 194kcal
Recommended Products